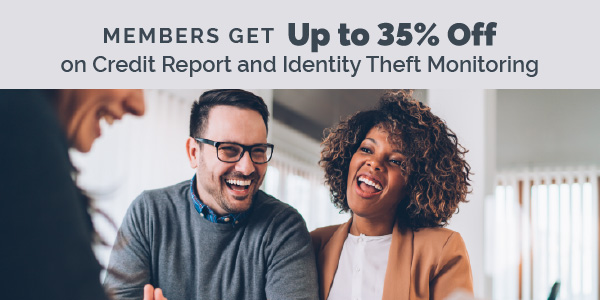 As a People Driven Credit Union member, you can receive up to 35% off on IdentityIQ® credit report monitoring and identity theft protection plans. This special offer includes upgraded access to the ScoreCasterIQ® interactive tool that analyzes your credit report and provides personalized recommendations and credit score scenario simulations along with other features.

Benefits include:
3-Bureau Reports & Scores
3-Bureau Daily Monitoring & Alerts
ScoreCasterIQ Tool Featuring Special Reports, Recommendations & Simulations
$1 Million Identity Theft Insurance*
Stay on top of your credit scores and protect your identity with your IdentityIQ plan. Select your plan and receive your discount today!

*Underwritten by AIG
Disclaimer: IDIQ® is the provider of IdentityIQ® services. To learn more about the IdentityIQ Privacy & Security policy visit the website at identityiq.com. IdentityIQ service is a nationwide provider of credit reports, scores, credit monitoring, and identity theft monitoring services. Identity theft insurance is underwritten by AIG.
Special pricing discounts vary by plan. Monthly plan discounts are 30% off regular pricing. Annual plan discounts are 35% off regular pricing. Terms and conditions apply.