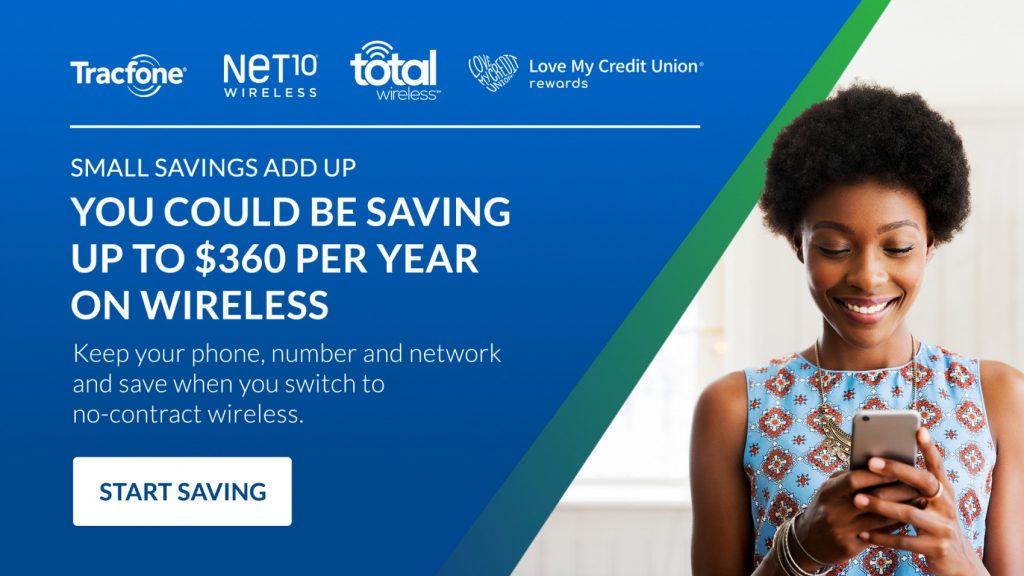 YOU COULD BE SAVING UP TO $360 PER YEAR ON WIRELESS WITH TRACFONE
Save up to $360 per year on your wireless bill when you switch to no-contract wireless. Keep your phone, number and network for less.
OUR MEMBER BENEFITS
NO CONTRACTS OR MYSTERY FEES

We offer a variety of wireless plans to meet your individual needs with no contracts, credit checks or mystery fees.

TOP NETWORKS

Coverage on America's largest and most dependable networks.

TOP PHONES

Whether you're an Android person or an iPhone fanatic, we have the latest phones for every budget.

KEEP YOUR OWN PHONE

Love the phone you have? Keep the phone, number and network you love with our easy-to-install SIM Kits.
Visit LoveMyCreditUnion.org and start saving on your wireless today.
Last year, Americans spent more than $284 billion on wireless products and services. A third of them were credit union members and most of them spent more on wireless service than they needed to. Members are overspending on an essential service in the midst of unprecedented economic challenges. People Driven Credit Union has partnered with Love My Credit Union Rewards and Tracfone to provide credit union members a savings of up to 33%-63% on their wireless plan.
Tracfone is the fourth largest wireless provider in the US and the largest US wireless provider for what is known as no contract wireless service. What's different about no contract? The no contract market provides exponentially more savings opportunities for members without a loss in quality of service. Tracfone brands use Verizon, AT&T and T-Mobile networks so your members get the same great high-speed coverage, including 5G speeds where available.
By partnering with us you can now offer your members the exact same wireless service on the exact same cellular networks and they can even keep the exact same mobile phones and pay a fraction of what they pay today.
Member Benefits:
Same phone, same number, same network
Dependable, high-speed, coast to coast coverage
Latest and greatest devices
Plans for every household and every budget
No Contracts, no hidden fees
Monthly discount on all plans
Check out more info on our FAQ