Beaumont Child Life Services Toy Drop
Dave: Hi everybody Dave Sullivan here part of the marketing team with People Driven Credit Union and I have an extraordinary guest,
Kathleen: I'm Kathleen from Beaumont Child Life Services
Dave: Kathleen, we had the employees gather gifts for kids who have to be in the hospital during the holidays. Why don't you tell me a bit about the program here at Beaumont?
Kathleen: Sure, our pediatric unit is quite large. We see a lot of patients, acute care patients, ages from birth all the way up to young adulthood. we have a 55-bed pediatric unit, and we have eight ICU beds as well for feeds and then there are also 50 NICU beds for the little tiny babies, so our child life program assists with helping families and children cope while they're in the hospital, so we do use a lot of play activities um toys crafts games that sort of thing to try and help kids understand what's happening with their medical experience and then also to help them cope during that time
Dave: We enjoy coming out to the moon beans for sweet dreams.
Kathleen: Yes
Dave: You know we're disappointed that we can't do that again this year, but hopefully next year.
Kathleen: We're hoping next year where we're going, we're going to try it again.
Dave: yeah, but this is so amazing.
Kathleen: Thank you so much.
Dave: It's our pleasure, and it's just a little bit that we can do to bring the Christmas spirit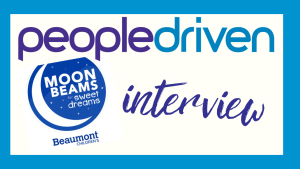 This cherished tradition started in 2016 by Beaumont Children's nurses and child life specialists as a way of helping Beaumont's youngest and bravest patients feel connected to their community during the holiday season.
Each December, community members from Southeast Michigan visit the Beaumont, Royal Oak campus at approximately 8 p.m. to shine flashlights to remind pediatric patients they aren't alone and wish them sweet dreams.