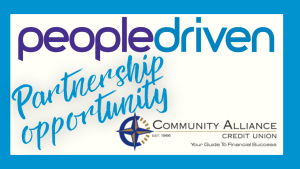 Dear Members,
The Board of Directors and Management of People Driven Credit Union (PDCU) are pleased to inform you we plan to partner with Community Alliance Credit Union (CACU). We believe you will find this an exciting enhancement to your membership.
Through this merger partnership, you will continue to have your connection with the PDCU employees you have grown to enjoy and appreciate. You will also gain additional benefits like a full suite of business account products and services and an additional branch location (37401 Plymouth Rd, Livonia, MI 48150).
In selecting a merger partner, your Board of Directors and credit union leadership were looking for an organization that fits well with PDCU in the following ways:
• Leadership who fostered a culture and shared a vision consistent with People Driven Credit Union.
• Caring about their employee team and membership like we care about our PDCU family;
• Bringing significant benefits to both memberships in terms of access, future financial security, and technology.
• Finally, just as important, committed to exceptional service and innovative products that meet the needs of the credit union membership.
We found all this and more in Community Alliance Credit Union and know that this partnership will provide both credit union memberships with a significantly improved membership experience. We are thrilled to have found an organization and team that fits People Driven Credit Union well.
Please see the attached Frequently Asked Questions (FAQ) document for more information about your membership and the merger (this document will also be available on our blog peopledrivencu.org). In addition, we will continue to communicate with you as the merger implementation takes place and are available to serve you and answer your questions.
You may learn more about Community Alliance Credit Union at communityalliancecu.org.
What are the next steps?
CACU and PDCU will continue the due diligence process while obtaining regulatory approval from the appropriate regulatory bodies (DIFS and NCUA). People Driven Credit Union's Board of Directors unanimously endorses this merger and appreciates your continued support. Please watch your mail, email, and website for more information about these exciting developments at PDCU.
Claudia Hunter Renee DeMarco
Chairperson, Board of Directors President/CEO